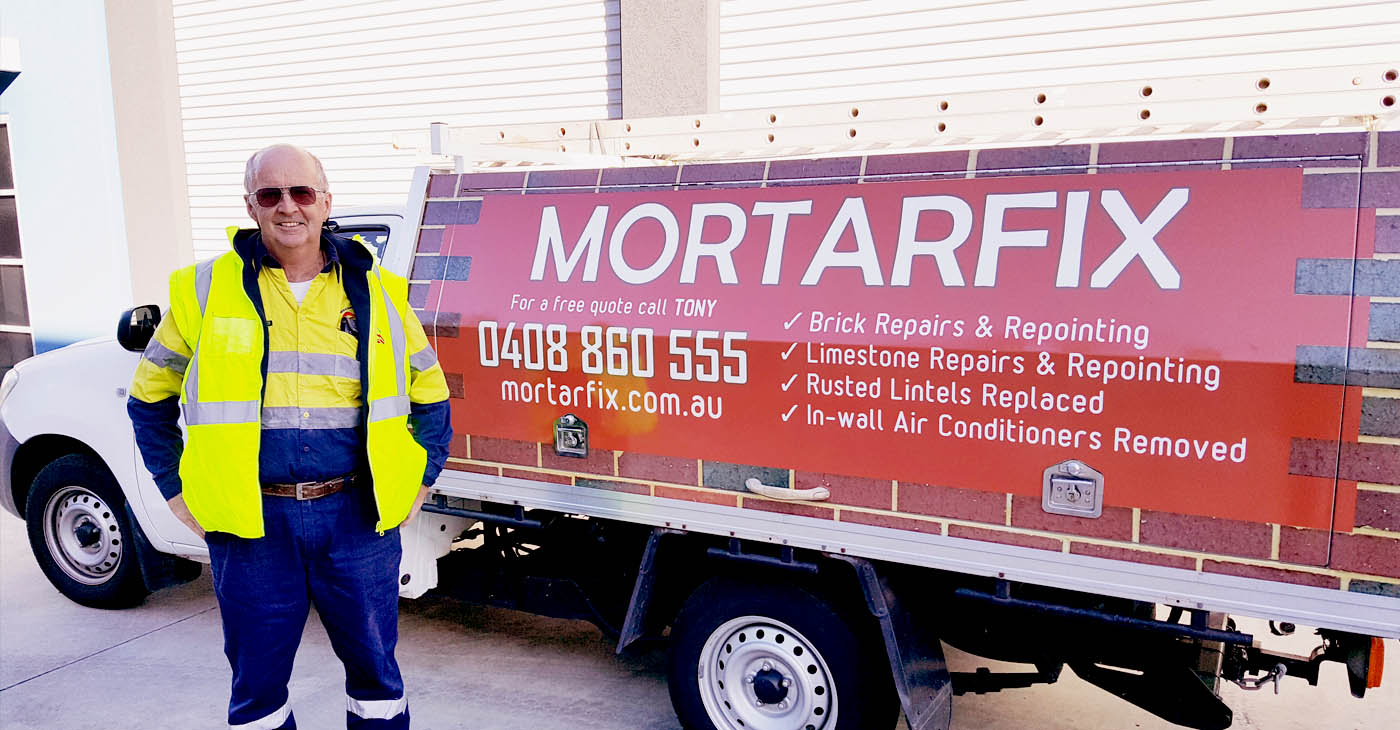 OUR SERVICES
BRICK REPOINTING
Mortarfix are specialists in all aspects of brickwork repairs and restoration. Mortarfix reinstate fretted mortars and restore structural integrity to brick & limestone walls.
LIMESTONE REPAIR & REPOINTING
Limestone has been used extensively and successfully around Perth for over 150 years. Although Limestone meets some engineering criteria, it is a very soft and porous media that requires periodical maintenance.
LINTEL REPLACEMENT
Due to many older buildings pre dating the Galvanising process or there being no requirement under the relevant Building Bylaws at that time, there are many Perth homes that have rusted lintels and they need replacing.
OLD AIRCON REMOVAL
For many years we have been removing old in wall Air conditioners in Perth homes and restoring the face brickwork and the plastered wall on the inside. You would never have known it was there.
CRACK STITCHING
We have been repairing brickwork cracks here in Perth since 1986. Cracks in your brickwork and
plaster can vary from normal structural movement to more serious movement requiring a repair commonly known as Crack Stitching.
"Many thanks for a neat, clean job well done!"
-Caroline, Willetton
"Mortarfix did an awesome job with restoring the limestone mortar on our 1950 Art Deco home. The Mortar had all but eroded but Tony and Samantha did a great job in making it look like new. I would highly recommend the work they did and the manner in which they conducted themselves."
-Jodi Balhorn
"Tony and Sam were prompt. In quoting and repointing our brickwork. Sam did a fantastic job and made sure the area was tidy and clean afterwards.
I would recommend them anytime."
-Mark, Karrinyup
"We had a old air conditioner removed and hole in wall filled. They were in and out before lunch. No mess and, wall plastered. Reasonable rates. Would highly recommend them."
-Angela Sutton
"The lintel replacement and brickwork are exceptional. On time, very affordable price and sincere. I highly recommend this honest man."
-Nebu Muttaseril
"The service we received from Mortarfix was excellent. Tony was on time, courteous and friendly and worked tirelessly to have the work completed that same day."
-Lisa McBride
"Very happy with the work!"
-Marg & Dave, Morley
"A terrific job that I'm pleased to have done!"
-Margaret, Quinns Rocks
"Very pleased with the brickwork repairs."
-Wayne & Rhonda, Forrestfield
"Excellent work, very happy with the service!"
-Steve, Swanbourne
"Very happy with your work Tony!"
-John Adams, Gosnells